In the great scheme of things a cap seems mighty small, so why the fascination with wearing them everywhere we go? In America, there are caps for just about everything. Maybe it's all the sports teams we have - you know, everything from our local Little League kids baseball organizations to the Big League National teams like the Orioles or the Yankees. When we walk around wearing our sports caps we feel part of the club so to speak, even though we may never have been to a live game at all.
Another reason we wear caps might be the need to raise awareness about an issue that's important to us. Wearing a cap lets us get the message out about
Alzheimer's research
, our
vegan lifestyle
or just tell people yeah, I survived
breast cancer
.
For some folks it might be the humor value we get from our caps. There's nothing like a good laugh for lifting the spirits. Getting up in the morning and putting on a
funny cap
before we head out the door can make us smile every time we read the slogan and it can make other people smile too.
Or maybe we just want to keep our head warm! Whatever the reason, here are some great caps to feed the passion we all have for wearing them. Caps tell who we are, what we do and what we care about. They also make great gifts for friends.
Embroidered Vegan Baseball Cap/Hat
by
veggieshirts
Have a
baseball cap embroidered
online at
www.zazzle.com
History Teacher Hat
by
teachertshirts
Get a
baseball cap embroidered
online with
zazzle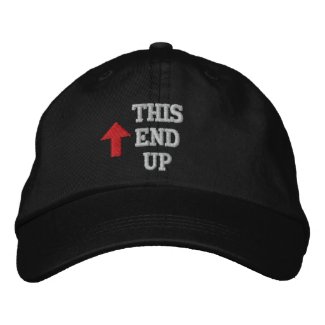 This End Up Embroidered Hat
by
embroideryshirts
Get real
embroidery
online at
www.zazzle.com
Anchors and Rope United States Navy Hat
by
embroidered
Need to wash your caps? Here is the best article I've seen on how to do it. It comes from Cruftbox and you just have to check out his
blog here
for all kinds of funny thoughts - it's definitely worth a regular visit. but in the meantime, here is an excerpt on cap washing:
How to wash a baseball cap
from the Cruft blog.
"....There are two basic concerns people have about washing baseball caps:
1) The shape of the cap and brim will be wrecked.
2) The cap itself will shrink or be damaged by washing.
Let's address concern number one. Most hats today use plastic inside to form the brim and not cardboard. The plastic can withstand a wash with no deformation.
Concern number two is a little more complicated. Some ball caps are made of wool. Wool can shrink in water and/or heat situations. Most people don't wear wool caps. Most caps today are cotton or polyester, both of which can stand up to a washing. Personally, I wear a wool cap. My brother has instructed me to only wear fitted wool caps. He says those kinds with the plastic snaps are for pansies. I guess the ones with the the leather or fabric straps straddle the cool/pansy line and are OK on occasion.
There are many inventions out there to help people wash their baseball caps. There are little plastic hat cages. There are chemical cleaners that look like underarm deodorant. There a suggestions to wash your cap in the dish washer. IMHO, these ideas are all whack.
Here are my guidelines for cap washing:
1) If the cap has been made in the last ten years, and it's made of polyester or cotton, simply toss it in to the clothes washer with the rest of your clothes. After the wash, take it out and let it air dry. Viola! A clean cap.
2) If you have concerns over the fragility of the baseball cap, get some Woolite, and wash the cap in the kitchen sink with lukewarm water. Don't soak the cap in the water, just use enough Woolite & water to get the grime off. Let it air dry and you are good to go.
If these too methods still seem to harsh to you, I suggest that you may not be the kind of person that should be wearing a baseball cap. Maybe you need one of those floppy beret things that art students wear in coffee houses.
Feel free not to take my advice and use one of the other methods, but don't come crying to me when the stupid plastic hat cage has melted in your dishwasher...."
Embroidered Gone Geocaching Cap
by
MainstreetShirt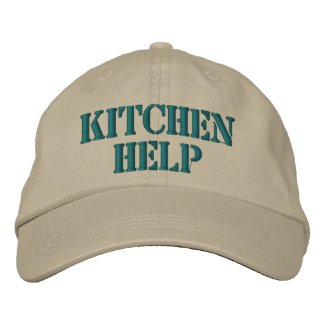 Funny Embroidered Kitchen Help Cap
by
chef_tshirts
Get custom
cap embroidered
on
zazzle.com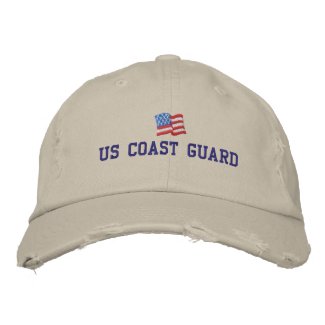 U.S. Coast Guard Embroidered Hat
by
embroideryshirts
Make your own
embroidered hat
online using
Zazzle.com